The following profile of Industrial Roofing Services, Inc., displays our capabilities as an independent roof, building exterior and pavement consulting firm. Below you will find an overview of the corporation's concept, philosophy and a brief history of the firm.
Corporate Philosophy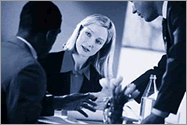 Industrial Roofing Services, Inc. is a registered corporation in the State of Wisconsin, started in March, 1986. Our corporation is based on the principle of proactive asset management. We add value to our clients by gaining an understanding of their goals and objectives in managing their roofing, paving and exerior assets. With this knowledge and concern for our clients we tailor our services to efficiently support our clients in managing these assets. We provide our clients with an experienced, knowledgeable source of completely unbiased information. We are not affiliated with material manufacturers, nor do we have ties to contractors. This enables us to act in the best interest of our clients, without conflict of interest concerns. Our clients receive the most accurate and efficient Roof, Building Exterior and Pavement Management Programs and construction documents available, helping them to achieve effective, proactive asset management.