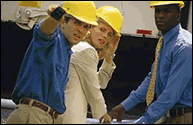 The waterproofing industry has undergone many changes in the last twenty years. The greatest change, is the complexity and number of potential solutions available to address roof, wall and pavement problems. Facility managers have been forced to seek the expertise of an independent resource to analyze the numerous options available in today's volatile marketplace. The first, and most important, choice to be made by the facility manager is how to manage these complexities when approaching a roof, wall or pavement problem. The market offers four alternatives:
---
Owner/Manager: Some companies have sufficient staff to dedicate one person's time to make waterproofing-related decisions, without the assistance of an outside source. However, most owners/managers must still rely on some external source for current information.


Contractor: Contractors are also a source of information, easily available to facility owners/managers. Contractors, however, have an inherent bias in relation to their market strengths, future bidding situations, and manufacturer affiliations when making recommendations. For these reasons, a contractor's recommendation may not be in the best interest of the facility owner/manager, because most often it represents a compromise between the interests of the contractor and the interests of the facility owner/manager.


Product Manufacturer: Some product manufacturers have sales representatives that will provide "free" analysis and recommendations as part of their marketing strategy. The representative, however, is limited in their recommendations by the products that are manufactured by their company. These products are often significantly (200% - 400%) more expensive than competitive products distributed on a commodity basis. This premium becomes the "free " cost of the services provided by the sales representative. Solutions offered by a product manufacturer often tend to be a compromise between the interests of the product manufacturers sales representative and the facility owner/manager.


Consultant: The waterproofing industry has evolved into a very complex and volatile industry. The need for an independent source to analize and design waterproofing systems for facility owners/managers has grown dramatically. Architects and engineers had been a traditional resource for this type of expertise but currently most lack the necessary expertise in this specialized field. Most architects and engineers now rely heavily on "free " advice derived from contractors or product manufacturer sales representatives. The consultant has evolved in response to the growing complexity of the industry. The consultant provides facility owners/managers with the specialized knowledge and experience needed to guide them to the most appropriate solution for their needs.


Assuming independence is a key ingredient in your decision-making process, only two of the four alternatives are acceptable. IRS advocates a combined effort between the facility owner/manager and its consultants. This combined effort affords facility owners/managers with the most appropriate solution necessary to satisfy their business goals and objectives at the lowest possible cost.


Your roof, building exteriors and hardscape assets represent a significant portion of your overall facility investment. Whereas the overall facility appreciates in value, your roof, building exterior and hardscape assets depreciate over their designed service life. Failure to effectively manage these deteriorating assets can have a major impact on your organizations "bottom-line."


Industrial Roofing Services, Inc. provides all of the services necessary to assist you in efficiently and effectively managing these complex aspects of your overall facility investment. We appreciate your interest in our firm and the services we provide.